Coronavirus: Shropshire records lowest weekly COVID-19 cases since December 2020
During the 7-day period from 5–11 February 2021 in Shropshire:
492 new cases reported
This was a decrease of 150 (23%) cases compared to the previous week
The seven-day infection rate for Shropshire was 152.3 cases of COVID-19 per 100,000 of the population.
For the West Midlands it was 196.4 per 100,000
For England it was 147.7  per 100,000
There were 40 COVID-19-related deaths in Shropshire hospitals
101 hospital beds at the Royal Shrewsbury and Princess Royal Hospitals were occupied by COVID-19 patients
119 cases relate to people under the age of 30
58 cases relate to people aged 70+
During the last week 32% of cases were in the Shrewsbury & Atcham area
44% were in north Shropshire
24% were in south Shropshire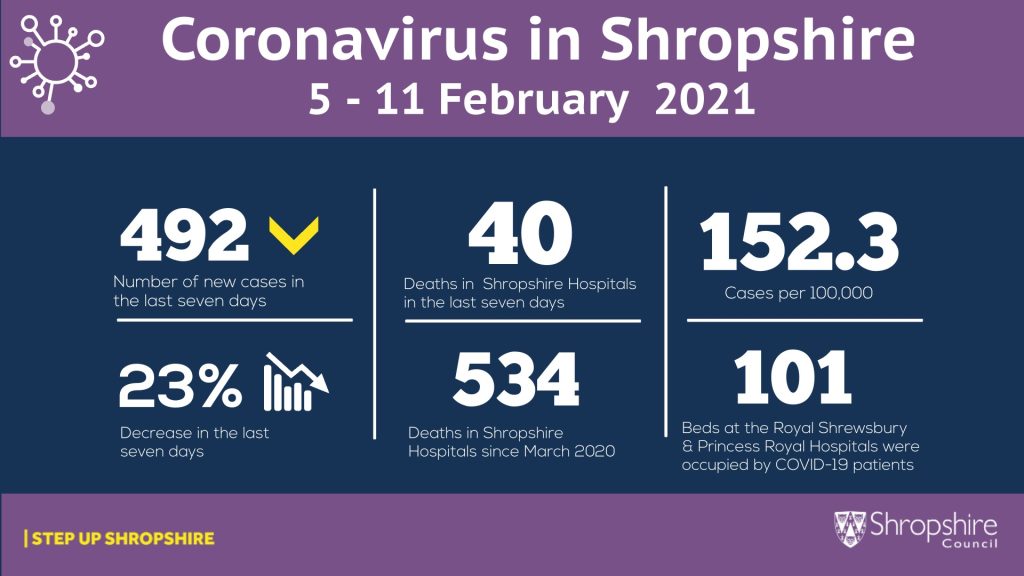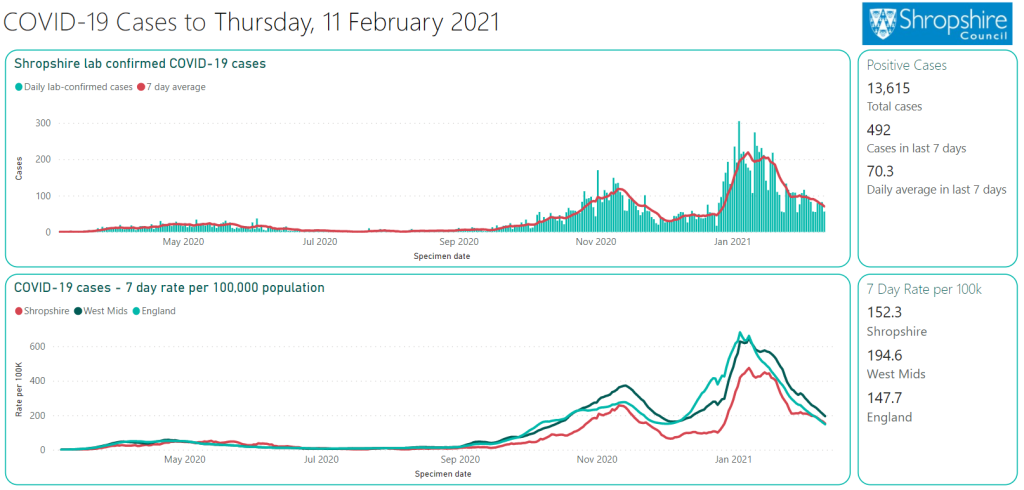 This is the lowest weekly figure recorded in Shropshire since the turn of the year. We would like to thank you all for your efforts in helping to reduce the number of positive cases – and we must keep going.
Rapid COVID-19 testing for key workers in Wem
A new rapid COVID-19 testing site will open in Wem on Monday 22 February 2021 to help protect essential and other workers who cannot work from home.    
The new centre will be at The Stanier Hall, Thomas Adams Sixth Form, Noble Street, Wem, Shropshire, SY4 5DT 
You can book a test now  - http://www.shropshire.gov.uk/lfdpublictesting/  
The tests are for people without symptoms and should be repeated every 3-5 days to quickly identify and isolate those who may not know they are infectious. Up to a third of people who test positive for COVID-19 have no symptoms at all, so it's important to test people without symptoms to identify these cases.  
The speedy tests can rapidly turn around results within an hour without the need for processing the swabs in a lab.  
Rapid testing for key workers is also available at our centres in Shrewsbury and Craven Arms
Anyone with symptoms (a high temperature; a new, continuous cough; a loss of, or change to, your sense of smell or taste) should book a test via www.gov.uk/get-coronavirus-test   
If the test result comes back positive then you must self-isolate for 10 days and follow the Government guidelines – information is available at www.nhs.uk/…/when-to-self-isolate-and-what-to-do/ 
Shropshire businesses offered the chance to deliver rapid testing
More businesses in Shropshire are being offered the opportunity to take part in a programme of rapid testing for COVID-19 for their staff.
One in three people who are infected display no symptoms and are an important vector in the spread of the virus. Testing of people without symptoms helps to identify and isolate cases and break the chain of transmission.
A number of local businesses and organisations have been supported by the council to help deliver their own training for staff.
Businesses who want to offer testing will be provided with equipment, training and all the advice they need to establish their own programmes.
To find out more about our rapid testing training offer, please email [email protected]
Originally published by Shropshire Newsroom